Countdown to the Touch
Saturday, August 10, 2024  –  Spencer Park 9:00am – 9:00pm (CDT)
0
Weeks
0
Days
0
Hours
0
Minutes
0
Seconds
Klompen Decorating Contest
Wooden Shoe Decorating Contest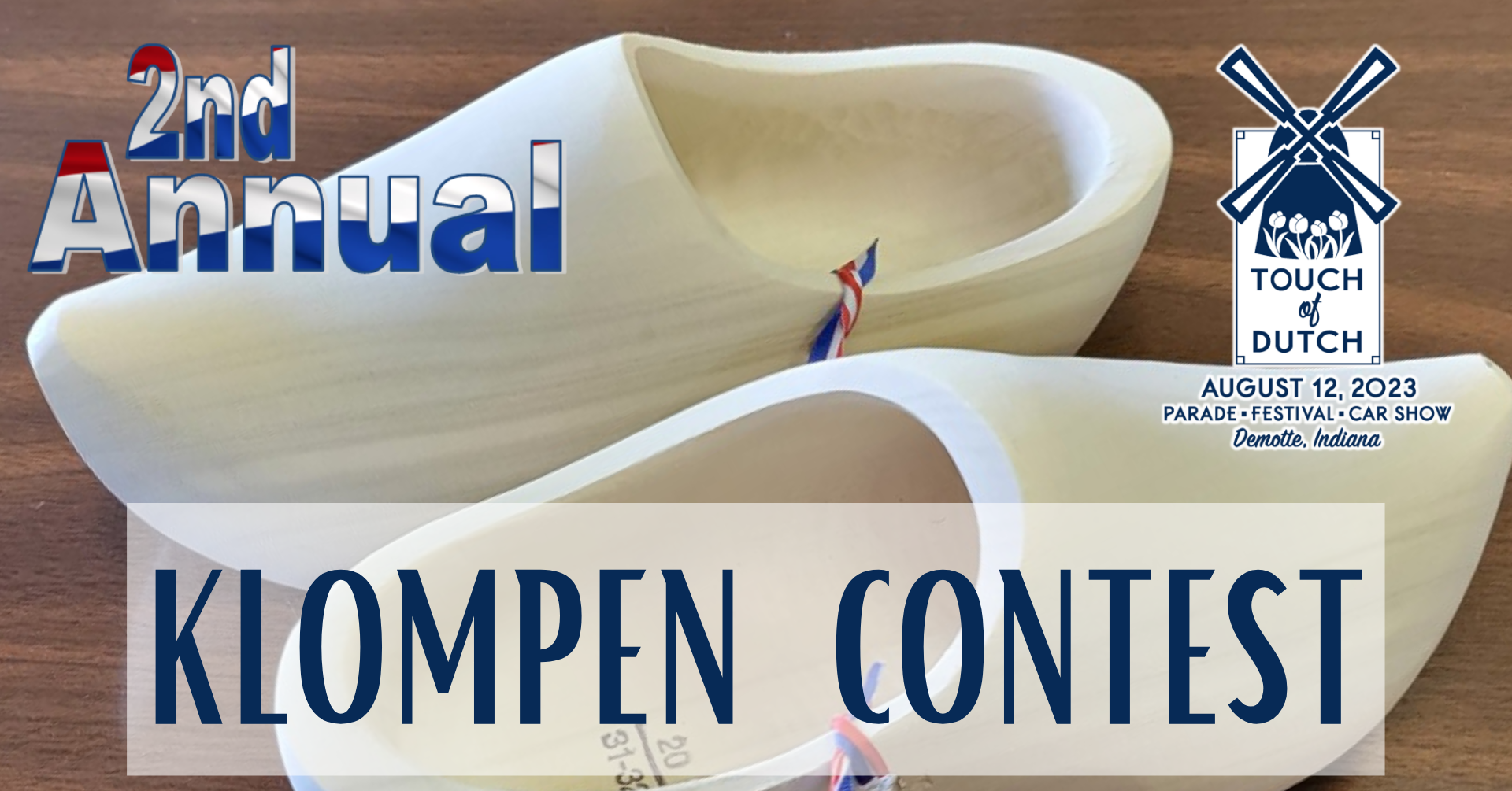 Get ready to showcase your artistic talent in the Klompen Decorating contest, an exciting event that invites participants to transform traditional wooden clogs into stunning pieces of art. This unique competition beautifully combines tradition with innovation.
Visit the DeMotte Chamber office to purchase your raw wooden shoe for just $20 and enter for a chance to win! The lucky winners for each category will receive 25 Dutch Guilder, which can be spent at the Touch of Dutch Festival, along with an official Touch of Dutch t-shirt.
Voting will take place on Facebook, and the winners for each category will be announced during the Touch of Dutch Festival on Saturday, August 12th.
Make sure to submit a photo of your creation by the July 28th deadline. The voting process will begin by July 30th and close at 5:00pm on August 9th.
Below, you'll find a registration form for entering the contest. Please read the rules carefully, and if you have any questions, feel free to contact the Chamber via email at info@demottechamber.org or text to 219-405-6840.
The DeMotte Chamber office is conveniently located between Stracks and Shear Designs in the DeMotte Plaza. Office hours are from 9 AM to 1 PM on Mondays, Tuesdays, Thursdays, and Fridays (closed on Wednesdays).
Klompen Decorating Contest Registration
Contact Us
DeMotte Chamber
327 N. Halleck St.
DeMotte, IN 46310
(Located in the DeMotte Plaza)
(219) 987-5800
info@demottechamber.org
Hosted by

Chamber Hours
Monday – 9:00am-1:00pm*
Tuesday – 9:00am-1:00pm*
Wednesday – CLOSED*
Thursday – 9:00am-1:00pm*
Friday – 9:00am-1:00pm*
Saturday/Sunday: CLOSED
(*or call for an appointment)