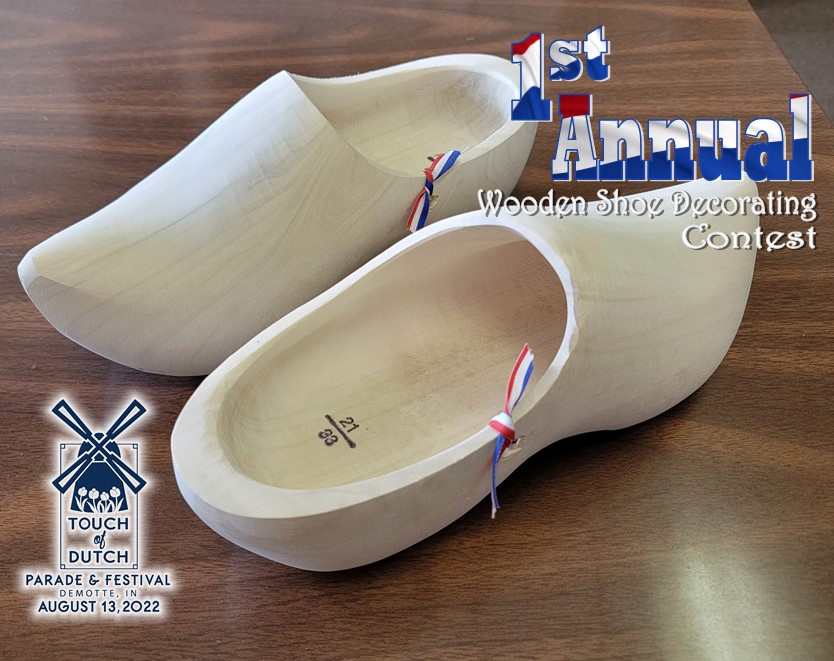 Bring on your Dutch creativity! Enter our First Annual Wooden Shoe Decorating Contest!
Stop in to the DeMotte Chamber office and purchase your raw wooden shoe for only $20 and enter to win!  Winner will win Dutch Guilder – "money" to be spent at the Touch of Dutch Festival AND an official Touch of Dutch t-shirt. (why would you want or need anything more?!)
Rules* of the creations?
– The only rule is that it must be family friendly.
– You can utilize any artsy technique.
– You can have the shoe be part of a bigger creation.
– You can even attach other items to the shoe.
– Have fun with this. Show your creativity.
– Have a little competition among your friends!
– Invite your business or organization to enter this contest! More exposure for them!
Voting will be done on Facebook and the winner will be announced at the Touch of Dutch Festival on Saturday, August 13th on Facebook LIVE.
Deadline to submit a photo of your creation is July 22nd. Voting will open by July 25th and voting will close on August 4th.
E-mail photo to info@demottechamber.org or text to 219-405-6840.
This will be the beginning of a new tradition for our festival, and we are looking forward to seeing all of the beautiful creations.
The DeMotte Chamber office is located between Stracks and Shear Designs in the DeMotte Plaza. Office hours are 9-1 Mon-Tue-Thu-Fri (closed Wednesdays).
Or call for an appointment to pick up a wooden shoe! 219-987-5800.
*Part of your participation in this event is that we ask that you bring your creation to the Touch of Dutch Festival on Saturday, August 13 between 6:00am-10:00am to be displayed at the Touch of Dutch Festival for all the visitors to admire. Your creation will need to be picked up between 5:00pm-8:00pm on August 13th or it will become the property of the Touch of Dutch Festival. Winner need not be present to win, however; you won't get any of that hot Dutch Guilder to spend at the festival if you aren't there. The Touch of Dutch Festival committee reserves the right to refuse any creation for good cause.