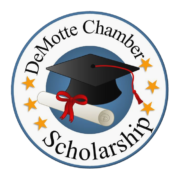 This scholarship opportunity is currently closed.
Please check back in February 2023 for the new scholarship season.
OBJECTIVE:
To establish a college scholarship fund from the DeMotte Chamber of Commerce. The scholarship will be available to any qualifying High School senior in pursuit of a higher education with a major in any business-related field.
CRITERIA:
One $1000 scholarship will be awarded.
Candidates must be a student of KV High School or Covenant Christian High School.
Candidate must show history of maintaining a cumulative grade point average of a C or above and must be a 2022 graduating senior.
This scholarship will only be applied to recognized Indiana trade schools, colleges, or universities.
Proof of college acceptance is required and must be presented to DeMotte Chamber of Commerce before scholarship funds are dispersed to the college in the student's name/student ID number.
This scholarship may be applied toward educational expenses.
Submit a paragraph explaining why you chose a business-related major.
Deadline for application is April 30, 2022.
HISTORY:
The DeMotte Chamber of Commerce is a non-profit organization 501(c) 6 that was incorporated in 1981. The members consist of all types of businesses, civic, non-profit & Church organizations.
Our Mission Statement: The mission of the Chamber shall be to foster an environment conducive to business growth through good government and business relations, showcasing quality housing, displaying community pride through various public events, and promoting the business community.